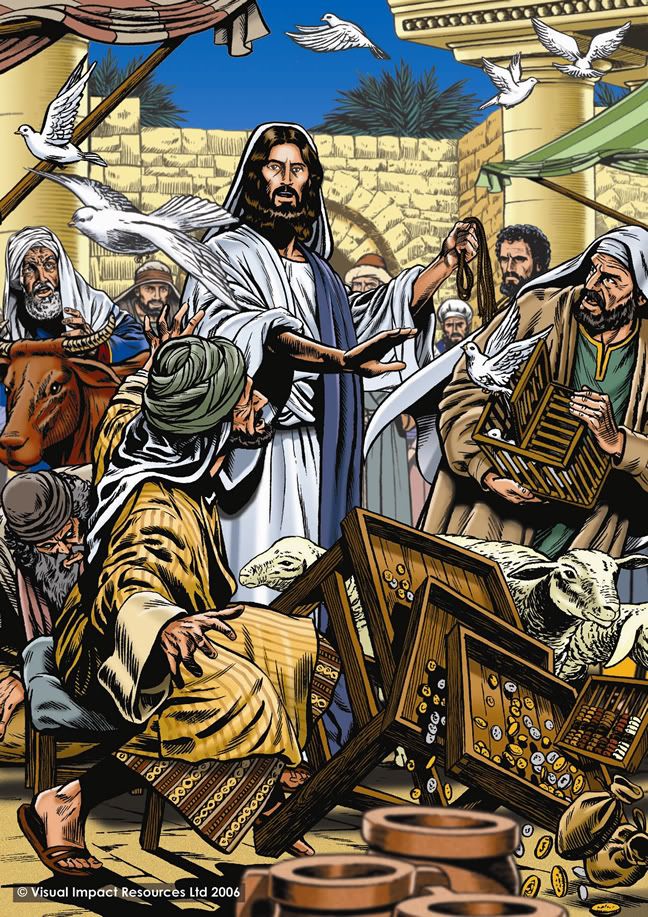 Only Jesus was left in the Temple. The sheep,and the birds were set free to escape their fate as sacrifices for the sins of others. The coins needed for exchange to buy sacrificial animals were all on the ground. Only Jesus was left in the Temple.
Our Gospel reading for this Sunday begins with a question posed by the religious leadership of the Temple: "By what authority do you do the things that you are doing?"
What was Jesus doing that so upset those who were responsible for maintaining the lawful and ordered processes of religion?
His actions are called the cleansing of the Temple. By disrupting a religious activity that had a long and respected history, Jesus was offering the world of religion and politics an alternative way for creating peace and unity in the world.
Jesus was the only sacrifice left in the Temple and his giving of himself to us and for us created a space called the Kingdom of Heaven in the place of shame, death, sin, and sacrificial violence.
When you hear claims that Jesus is the Only Son of God or the Lord of Heaven and Earth, consider that this title is only available for the One whom St. Paul spoke of in our reading for this Sunday:
Philippians 2:1-13
If then there is any encouragement in Christ, any consolation from love, any sharing in the Spirit, any compassion and sympathy, make my joy complete: be of the same mind, having the same love, being in full accord and of one mind. Do nothing from selfish ambition or conceit, but in humility regard others as better than yourselves. Let each of you look not to your own interests, but to the interests of others. Let the same mind be in you that was in Christ Jesus,
who, though he was in the form of God, did not regard equality with God as something to be exploited, but emptied himself, taking the form of a slave, being born in human likeness.
And being found in human form, he humbled himself and became obedient to the point of death-- even death on a cross.
Therefore God also highly exalted him and gave him the name that is above every name, so that at the name of Jesus every knee should bend, in heaven and on earth and under the earth, and every tongue should confess that Jesus Christ is Lord, to the glory of God the Father.